Can We Please Talk About "The Slap" On This Week's 'Lindsay Lohan's Beach Club'?
Thursday, January 31, 2019 - 12:39
Okay, so this week on Lindsay Lohan's Beach Club, two of the VIP ambassadors went HAM on each other, and honestly, we're still shook.
It all started when Jonitta invited a guy she met at the club to come out with them that night. When he arrived, Gabi ran up to him and kissed him hello.
"That's not how you greet your roommate's date" Jonitta told cameras. "You don't greet your roommate's date at all! What are you doing, Gabi?!"
So Jonitta stewed for a few hours while they're out, grumbling that she stating she didn't have time for "thirsty hoes" but it was when the ambassadors got home that the real trouble started.
After a heated confrontation between the two, THIS happened: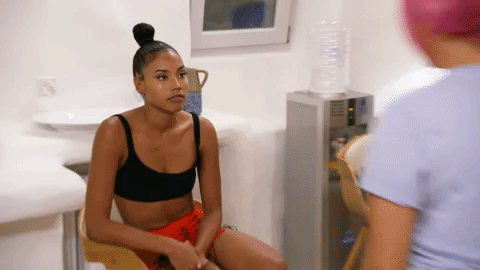 While all of the ambassadors are completely lost for words, Gabi is clearly shaken and goes to stay at the nearby hotel to get away from it all. Jonitta, on the other hand, doesn't seem to be sorry for what she did.
Even the next day, when Panos stepped in to make sense of what the hell happened, Jonitta didn't want to back down.
Watch Panos go IN on Jonitta after "slapgate" in the clip below:
After a much heated debate, Panos storms off to let Lindsay know about the sh*t show currently going down at her beloved club. How will she react? Are both Jonitta and Gabi doneskis? If you haven't already, watch the latest from 'Beach Club' below:
Catch new 'Lindsay Lohan's Beach Club' Wednesdays at 12pm AU / 2pm NZ, encoring at 8:30pm - only on MTV!
More From Lindsay Lohan's Beach Club