Pressing Questions With Big Skeez and Gold Fang
We accost Afro Swing rapper Big Skeez and reggae dancehall artist Gold Fang with a medley of life's most pressing questions.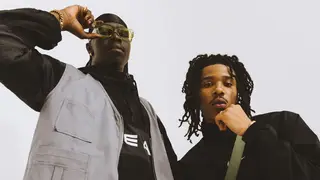 Not to be a complete fucking downer, but it can be hard to find the fun in things lately – even picnics get exhausting at some point. But, let it be known that I'm entirely thankful for those who continue to find the fun in life and share it with us. Case in point: Big Skeez and Gold Fang.
The two have teamed up for new banger "Where Yuh From" and it's an absolute moment. Fusing elements of Afrobeat and dancehall, with a distinctly Australian twist, "Where Yuh From" – out through Nina Las Vegas' NLV Records – is exhilarating, invigorating and relentless all at once. It's the type of song you'll be moving to without even realising it, before you lean completely in and let the infectious spirit of both Big Skeez and Gold Fang take over.
Despite being all fun and games in their new single, both Big Skeez and Gold Fang displayed their more sentimental and contemplative sides when they sat down with MTV Australia recently to answer our most pressing questions – proving they can do it all.
What is the meaning of life?
Big Skeez: Life is a blessing from God, Life is hard and tough yet beautiful. It's unexplainable. Life is an adventure. Life is like a game without rules. You just go with the flow. Life is about meeting new people. Life is about learning and discovering. Life is about reaching your dreams. Life is about spending quality time with loved ones and living for the memories!
Gold Fang: I don't know the meaning of life, I just think it has to do with being a good human being.
Something COVID taught you
BS: COVID has taught me how to appreciate your loved ones. It has taught me that life has its ups and downs and it isn't perfect. It has also taught me to be strong mentally, physically and emotionally.
Best advice you've received
BS: Listen more than you speak. You were given two ears and one mouth for a reason.
GF: Believe half of what you see and not of what you hear.
Someone you really admire
GF: My Grandma for so many reasons I can't explain, she's a queen.
How do you feel about your hair?
BS: It's hard to maintain.
GF: My hair gives me strength like Samson from the bible, every piece of dread has a piece of history behind it.
What happens when you die?
BS: We go to heaven and meet our Creator.
GF: I don't know, hopefully it's what the bible says.
Describe yourself in three words
BS: Passionate, big-hearted and intelligent.
GF: Understanding, loving and ghetto-as-hell.
One person or thing you think is underrated
BS: Introverts are always the most underrated people in the world.
GF: Ketchup and mustard on pizza, trust me.
You can time travel to the past or the future. Where do you go and why?
BS: I would travel back to when I was a young kid, because I miss the good childhood days.
GF: I would go back to the past to see the people I didn't get to say goodbye to.
GF: That's a hard one, I think both.
BS: I've made too many mistakes in the past.
GF: I doubt myself the most.
Daily ritual you couldn't live without
GF: I gotta blaze one everyday.
How are you at 8am (are you a morning person?)
BS: I am up and ready to go. I'm definitely a morning person.
GF: I'm not an 8am person but if I have to wake up at 8am then it's not a problem at all.
Something you're passionate about
Big Skeez and Gold Fang's single, "Where Yuh From" is out now.
Intro written by senior MTV music and culture writer, Jackson Langford.