James Charles Is The Latest Influencer To Weigh In On Instagram's Algorithm Change
James Charles says the algorithm change caused his posts to get 75% less engagement.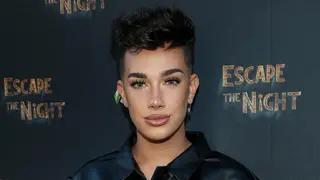 James Charles is on the warpath again.
This time, the beauty influencer is taking aim at Instagram, blaming the platform's algorithm change to cause his likes to drop from 4 million to 1 million per post. 
In a video nearly eight minutes long shared in an Instagram Story (and yes, some might call this biting the hand that feeds him), James shared four screen grabs showing a 75% drop in engagement on his Instagram posts. "It's embarrassing to have your likes drop 75%," he said.
Later, he explained that the dip had happened in just two months and that he hadn't changed any of his posting habits. "I'm still posting the exact same type of content," he said. "Still posting a few times a week. Still engaging with my followers. Still posting on Stories. Everything you could possibly do, I'm doing."
For background, Instagram regularly updates its algorithm for a few reasons: to ensure users are getting the content they want so they keep Instagram, to reward users who consistently post and, most importantly, to maximise its own revenue by getting businesses to shell out for sponsored posts. Its biggest update came when it changed feeds to be non-chronological.
In James' rant, he explained that while he was fortunate enough to have other platforms he could rely on to engage with fans, other creators did not. 
"Me as a large creator, a 75% decrease sucks and is annoying," he said. "But I can still survive off of 25% engagement. However a lot of small businesses or small artists that are already struggling to get by cannot. That 75% decrease could literally be their school tuition, their food on the table for themselves or their family that month, their insurance bill, their house bill.
Watch the full rant here:
Main Image Credit: Licensed by Getty
Every Jeffree Star Controversy Throughout His YouTube Career...
bored at home...? catch past seasons of geordie shore here…