The Somali Song That Broke The Internet
Writer Najma Sambul muses on the success of "Isii Nafta", the viral TikTok song that has four languages in one verse.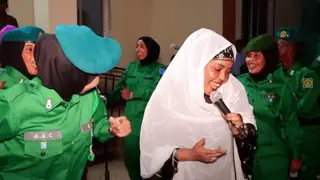 The success of "Isii Nafta" (Give me life), a song being described as so addictive it's "laced in crack" has introduced the world – the non-Somali speaking world, that is – to the joy that is Somali music.
Nimco Happy, the female Somali singer behind the hit, debuted the single in 2017, four years before it would blow up on TikTok and land her a record deal. The footage of Nimco Happy donning a white scarf, singing the now famous chorus singing the now famous chorus has been shared by thousands of users, the audio featuring in over 100,000 TikTok clips since it was first loaded in October. She sings, "Ogsoonoo inaan ku kujeclahay, and I love you more than my life, ana xibak yaa xabiibi, nakupenda mimi saba, aa u jeedada caashaqayga." The words are slight variations of "I love you" in Somali, English, Arabic and Swahili.
On YouTube the song has millions of views and thousands of comments from fans across the world. One user said, "I hope this woman realizes she's basically an international superstar now. Her song is such a vibe." Supermodel Bella Hadid posted the clip on her Instagram grid to her 46.8 million followers with the simple caption "Isii Nafta" and a Somali flag, a single five-pointed star on a light blue field. Cardi B, Drake and Trevor Noah have also engaged with the hit on social media.
Since its popularity on the billion-user strong app, "Isii Nafta" has spawned a dance challenge, been hilariously remixed into drill, and has done the rounds at music festivals. Nimco Happy has now been signed to Polydor Records, a subsidiary of Universal.
I personally came to understand the hold the song had on people when my non-Somali friend began serenading me with the opening line of the song in unintelligible Somali, multiple times a day.
It's always interested me to hear outsiders engage with Somali culture. As we Somalis account for a sliver of the world's population, at 0.2%, it feels surreal. The first time I had heard a non-Somali musician reference Somalis was 2014 when Drake rapped, "Know some Somalis that say we got it Wallahi'' in the single, "Draft Day", a nod to the cultural influence of Somalis in the rapper's native Toronto, also home to a large Somali diaspora. Similarly, in 2018 rapper Cardi B said, "Hotter than a Somali, fur coat, Ferrari" in her hit, "I like it", from her Grammy award winning album, Invasion of Privacy. While these fleeting mentions of Somali people or culture have always made me laugh in this weird "I don't know how I feel about this" way (especially Cardi's?) the rise of "Isii Nafta" feels a bit like vindication. The song trended organically on TikTok; sure, the algorithm helped, but there was no big music team, nor did the app's executive team push the track like they did, for example, with Megan Thee Stallion's hit "Savage".
In fact, Nimco Happy wasn't particularly active on social media at all. Before the track went viral, the last time she had posted on her Facebook account was in October 2020.
Isii Nafta was the quintessential underdog of mainstream success. While it is an extraordinary feat for the esoteric song to get as popular as it did, it perhaps resonates with audiences who are already engaged with music in different languages. There's no denying the world loves a bilingual bop, just look at the popularity of Spanish music outside of Spanish-speaking countries, Afrobeats outside of Africa and, of course, the formidable global force that is K-pop.  As Nimco's track has four languages in one chorus - her lyricism is a masterclass in cross-cultural connection. Put simply, it has something for everyone.
While "Isii Nafta" has become a global sensation, it's not the first time Somali music has been recognised on the international stage. In 2018, Sweet as Broken Dates: Lost Somali Tapes from the Horn of Africa – an archival album of Somali music from the '70s – was nominated for a Grammy in the Best Historical Album category. The album featured famous Somali musicians and acts like Dur Dur Band and Hibo Nuura that formed the distinct soul and funk sound of the pre-civil war era in Somalia.
While the spotlight on Somalinimo (Somaliness) has been novel for non-Somalis recently, many Somalis have been loudly applauding this year, particularly; the 'mainstream' accomplishments of our own in the arts has been something to behold. British-Somali writer Nadifa Mohamed's book, The Fortune Men, made her the first Somali author nominated and shortlisted for a Booker Prize. Similarly, Finnish-Somali director Khadar Ahmed's film, The Gravedigger's Wife, premiered at the prestigious Cannes Film festival and is Somalia's first Oscars submission. Now, we can add Nimco Happy's viral success and record deal to what we know is a growing list.
Watch Nimco Happy's "Isii Nafta" in full below.
Written by Najma Sambul, a Somali-Australian writer from Melbourne. On the internet as @najsambul.
More good stuff: