Pressing Questions With Reena Gupta
Pressing Questions is, undoubtedly, the hardest column of all time. Here, on our very last day of publishing, MTV writer Reena Gupta tries her hand at answering the tricky questions that we so blatantly put on others.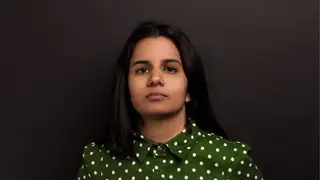 In this, our final week of publication, the time has come for MTV Australia contributors to get a taste of their own medicine. In a bizarre and unnecessary form of self-flagellation, we've decided that we too must answer the baffling questions that we so smugly put to others in our column known as Pressing Questions. Here, mtv.com.au's senior culture writer, Reena Gupta, takes a swing.
What is the meaning of life?
There probably isn't one, which I don't mind. Takes the pressure off.
Something COVID taught you
It taught me that I'm very privileged (a middle-class Australian person), but at what cost? (Not being able to leave Australia.)
Mother! I was trying to get into the Halloween spirit but I really, really hated it. I wouldn't have watched it if I knew it would be packed with references to the bible. I don't know the bible! Do not watch this movie.
Best advice you've received?
"Do you. It's not easy but it's essential". It's from Charlie Kaufman's 2011 BAFTA lecture, which is so great and packed with good advice.
Someone you really admire
Amy McQuire. She's such a killer journalist and I still think about her 2015 piece Junk Food Journalism: Why Annabelle Crabb's Kitchen Cabinet Is Toxic all the time.
How do you feel about your hair?
I think when it comes to my hair, I'll never really, truly, be at peace. I just had my first haircut in 10 months, though. I asked for a curtain fringe and the man said no.
What happens when you die?
Describe yourself in three words
One person or thing you think is underrated
Queenslanders. Some of the best people are from Queensland! So many people in Melbourne use it as a projection screen for anything undesirable about Australian culture in general, and it shows.
You can time travel to the past or the future. Where do you go and why?
Pre-colonial India. I do not wish to explain! Mind your business.
Australia. It feels like we've been moving backwards for a long time and I doubt that things are going to turn around any time soon.
Daily ritual you couldn't live without
Making myself something to eat or drink, even if it's just a cup of tea. I just feel better if I've made myself something.
Either asleep or reluctantly awake. I'm great at midnight, though.
Something you're passionate about
Doing the right thing and not making a deal about it. So much of our culture right now is about the appearance of goodness, whether it's posting the right tile to Instagram or wearing the most progressive shirt. We need to learn to be better people while shutting the fuck up about it, you know?
Words by Reena Gupta, a Melbourne-based writer for MTV Australia. Follow her on Twitter @purpletank.
Editor's note: After this week, mtv.com.au will stop producing editorial, with publishing halting on the site from Friday afternoon, Nov 5. MTV fans can continue to follow along with the brand on social media and the channels.