'Emily In Paris' Is So Bad. Why Can't I Stop Watching It?
Netflix's 'Emily in Paris' whisks you into a low-stakes world drenched in high-key colour, a deliriously distracting reprieve from your current reality.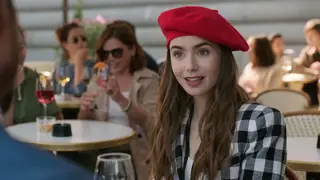 You don't need me to tell you that things have been tough lately. So tough that Charlie Brooker, creator of dystopian-hell series Black Mirror, thoughtfully decided to put the much-loved Netflix show on hold for a while. "At the moment, I don't know what stomach there would be for stories about societies falling apart," Brooker told the UK's Radio Times in May 2020. 
And maybe that's where Black Mirror's opposite – the wildly popular Netflix series Emily In Paris – comes in. While Black Mirror leans into the dark underside of modern life ("we do fling you into a pit of despair, and then piss on you" muses Brooker), Emily in Paris whisks you into a low-stakes world drenched in high-key colour. One where a twenty-something American (Lily Collins) can swoop into a Disney-fied Paris for a social media gig, speak zero French, and somehow thrive through the sheer force of American optimism. One where the cartoonish fashion designer, Pierre Cadault (Jean-Christophe Bouvet) lies in bed tapping on a crème brûlée to relieve the stress caused by a botched fashion show. "In Emily's world, nothing is so insurmountable that clacking a few French desserts can't fix it," reads one review. "The world is not in grave danger. Nothing is."
Real life, of course, is a bit different. While Emily manages to land a job amping up the social media of Parisian marketing firm Savoir, actual twenty-somethings would be hard-pressed to find a similar job back home, let alone in one of the most coveted cities in the world. In 2019, Thrive Global noted that while Millennials and Gen Z are better educated than any other generation, they struggle to get full-time employment in their chosen field. And in stark contrast to Emily's breezy demeanor, they're experiencing sky-high levels of stress and mental illness.
And that's to say nothing of our new reality, where the pandemic is creating economic chaos for Gen Z and leaving Millennials even further behind. Add that to the fact that even a hug can mean the difference between life and death, and the reason that we're running to bad, fantastical TV like Emily In Paris becomes glaringly clear: escapism, baby.
"You can't dress like that and walk around Paris," a friend grumpily texted me after admitting to watching all of Emily In Paris the night before. She reluctantly hit play, she explained, after feeling exhausted but "too wired" to sleep; swallowing the series like a tab of diazepam. I came across the show in a similar way. At first, the constant Netflix plugs made me certain I wouldn't watch it, but a keyed-up weekend during Melbourne's upteenth week of lockdown created the perfect conditions for a dumb, colourful fantasy to wash over me. 
Watching Emily In Paris isn't really about thinking. It's about cranking that suspension of disbelief to its highest setting. Because once you start thinking, you'll realise the show is a mess. I mean, what's with the stereotyping? Why are these French people speaking English, even to each other? Is Camille the only good person on this show? Is Chef Gabriel even a proper character? And can't Emily at least try to speak French? Merde! There's no escaping that Emily In Paris is stupid on many levels.
So if we know the show is dumb, why do we keep watching? Here's my take: unlike critically-acclaimed, prestige TV – think The Handmaid's Tale or I May Destroy You – a show like Emily in Paris doesn't demand nearly as much attention or critical engagement, which is refreshing. Like reality TV, "you just get to lose yourself in the people on screen and not have to think too much about it", says Jack Hamilton, a Media Studies academic at the University of Virginia. Instead, you can sit back and let the colourful outfits, beautiful people and scenic backdrop mollify your more critical senses. 
"Easy-to-consume media let people switch off in a way that's simply not possible when fully focused or even just daydreaming," behavioural analyst Helen Sneha Jambunathan tells The Guardian. "Your consciousness has something to focus on, while the rest of you truly gets to rest," she explains. Which may be why shows like Emily In Paris can take you from a place of keyed-up exhaustion to one of relative calm. 
We're living in the golden age of television. A cornucopia of critically-acclaimed, award-winning TV is out there just waiting for us to experience. But after a while, there's only so much enlightenment I can take. This month, Esquire gushes about I Know This Much is True, the critically-praised HBO series starring Mark Ruffalo: a "difficult watch filled with grief, sorrow and a true trial of the human spirit", apparently. And that sounds so, like, important... but I'd rather watch this American weirdo tap out the most basic Instagram captions of all time before looking smugly out to the Seine, ok? Ruffalo will have to wait.
Written by Reena Gupta, a Melbourne-based writer at MTV Australia. Follow her at @purpletank.