'Emily In Paris' Creator Darren Star Defends His Sugar-Coated Imagining Of Paris
'Emily in Paris' creator Darren Star stands by his sugar-coated imagining of Paris despite French critiques of the show.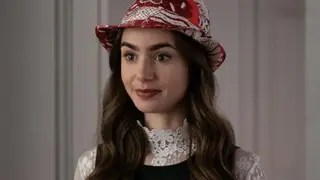 In case you missed it, much of the French media is unimpressed with how Emily In Paris – the wildly popular new series starring Lily Collins – portrays the famous French capital, with many claiming the show peddles unhelpful clichés and stereotypes (a sentiment that even Lucas Bravo, aka Gabriel, kind of agrees with). 

Charles Martin of Premiere, for example, writes:  "[In Emily In Paris] we learn that the French are "all bad" (yes, yes), that they are lazy and never arrive at the office before the end of the morning, that they are flirtatious and not really attached to the concept of loyalty, that they are sexist and backward, and of course, that they have a questionable relationship with showering. Yes, no cliché is spared, not even the weakest." Entertainment site Sens Critique were similarly unimpressed, joking that viewers will "have to strongly love science fiction" to get through the series. "The writers may have hesitated for two or three minutes to stick a baguette under each Frenchman, or even a beret to clearly distinguish them." Yep, pretty scathing stuff.
In a new interview with
The Hollywood Reporter
, creator Darren Star (the man behind
Younger
and
Sex and the City
) seemed unmoved by the French critiques. "The show is a love letter to Paris through the eyes of this American girl who has never been there," he says. "The first thing she is seeing is the clichés because it's from her point of view. I'm not sorry for looking at Paris through a glamorous lens." 
We've argued that
Emily in Paris
appeals to anglophone viewers because of its escapism; the fantastical imagining of Paris it offers. But as we've asked before, is it fair for us to indulge in a French fever dream that's annoying French people themselves? What kind of messed up "love letter" is that?
Oh god. Looks like we've got some thinking to do.
Main Image Credit: Emily In Paris, Netflix