Pauly D Reckons Him & JWOWW Are Definitely Gonna Hook Up On This Season Of 'Jersey Shore: Family Vacation'
We've got a situation.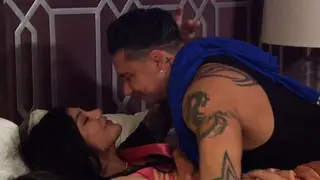 More than 10 years ago, JWOWW and DJ Pauly D got acquainted with his Prince Albert on Jersey Shore. And it might happen again during this family vacation.
"When I get the green light, me and Jenni we are going to hook up," Pauly says in the supersized sneak peek on the upcoming season, featured below.
But what does the "officially divorced" lady have to say about her longtime roommate? And who is "hoping" this big daddy sitch happens? Watch the entire video, and be sure to keep watching Jersey Shore: Family Vacation every Friday at 12pm in Australia, 2pm in New Zealand on MTV and 1pm right here on our website.
This article was written by Jordana Ossad, and originally appeared on MTV.com.
YEAAH BUDDY: watch the latest from Jersey Shore: Family Vacation below... 
Where Are They Now: The Cast Of Jersey Shore...