WHY AYE: 'Geordie Shore' Is Back With Three New Housemates & They're Proper Mint
About time.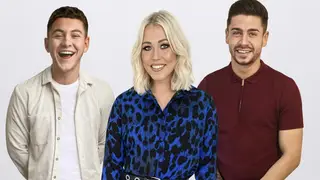 Geordie Shore is back with a brand new season, this time featuring three new cast members. Filmed pre-COVID, season 21 will welcome back Geordie royalty James Tindale and Abbie Holborn. Joining 'em are Chloe and Nat (more single than ever, FYI, and absolutely ready to make up for lost time). Beau and Nathan are also back in the house and ready to rekindle their bromance, much to the envy of Bethan.  
Yep, season 21 promises "lots of nakedness", "a bit of sex" and... some "toe sucking". Catch some of the madness below.  
So, who actually are the new Geordie housemates and what's their deal? Drumroll please... 
Amelia Lily
First up, there's Amelia Lily. The singer's already a well-known personality in the UK after appearing on their versions of X Factor and Celebrity Big Brother. Apparently Amelia finally is ready to let loose her 'inner wild child', and let's just say she certainly makes up for lost time.
Louis Shaw
You'll know Louis from True Love or True Lies. Louis has the gift of the gab that immediately makes him a hit with both the lads and lasses. "I'm a bit of a rascal so should fit right in!", Louis said. This should be interesting. 
Ant Kennedy
And finally, there's Ant Kennedy, a call centre worker who loves his tatts, MMA training and, of course, the ladies. But under his 'lad' exterior Ant is a self-confessed softie. He has always had long-term relationships and admits he's no stranger to pain, having had his heart broken in the past. We'll see if he turns his luck around in the Geordie house. 
The new season of Geordie Shore kicks off on MTV on Wednesday, July 29 at 7am, with an encore at 9:30pm on Foxtel and Fetch. You can also watch on demand anytime and download to own eps from July 30. 
We Can't Believe How Much The Old 'Geordie Shore' Lads Have Changed...