Charlotte Crosby Gets Extremely Honest About Why She Hasn't Consummated Her Relationship With Ryan Gallagher
...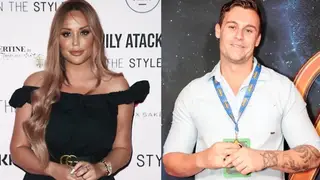 Even though we were feeling a little sad after Charlotte Crosby was booted from I'm A Celebrity Get Me Out Of Here, we were mostly excited to see her reunited with her jungle buddy, Ryan Gallagher.
The reality stars formed an undeniable bond throughout the series, and after four weeks of canoodling it's safe to say they were ready to get down to brass tax once the cameras stopped rolling.
But unfortunately it hasn't been smooth sailing for the Geordie Shore and Married At First Sight alums.
In a very ~candid~ interview with The Project Char was asked how things are going between the two now that they're free to sow their wild oats.
"Obviously we spent last night together - nothing like you think! I've got some infections down there... you can't really go there at the minute," she explained.
In another interview with Hughesy and Ed she straight up confirmed her condition on live radio. "I'll tell you a secret - I've got thrush!" she said.
We can always rely on our girl to tell the whole truth and nothing but the truth.
But don't worry the 29-year-old is sorting things out and it sounds like things will be right as rain in no time.
"So at the weekend there's going to be some fireworks, I tell you now! Give us two more days with the cream!"
All the best to #Rylotte.
Main Image Credit: Licensed by Getty
PICS: Get To Know The Cast Of 'Married At First Sight' Before The Premiere ...