Humble Queen Charlotte Crosby Proudly Shares Before & After Footage Of Her 'Aggressive' Camel Toe
...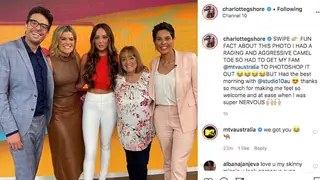 Charlotte Crosby is an open book. 
There are a few things you can be certain about in this life: death, taxes and Charlotte speaking her mind.
The Just Tattoo Of Us host stopped by Studio 10 this morning and took a lovely photo with Joe Hildebrand, Sarah Harris, Denise Drysdale and Narelda Jacobs. Regrettably Char's white trousers ventured where they shouldn't ~down there~, which resulted in most womens' worst nightmare...a camel toe.
Never fear though, nothing a simple bit of photoshop can't fix! The 29-year-old I'm A Celebrity Get Me Out Of Here contestant swiftly removed the "aggressive" camel toe and posted the before and after to her Instagram.
"FUN FACT ABOUT THIS PHOTO I HAD A RAGING AND AGGRESSIVE CAMEL TOE SO HAD TO GET MY FAM @mtvaustralia TO PHOTOSHOP IT OUT 😂😂😂😂," she wrote alongside the post.
We stan a humble queen who is tearing down the unrealistic expectations placed upon us on Instagram. We are here for the open and honest dialogue about embracing the ins and outs of the human body. And in this instance very much the outs.
All jokes aside we're happy to see her (still) having a joke at her own expense. She recently opened to 10 Daily about wanting to take a year and learn to love herself after coming out of a relationship with Josh Ritchie and a short romance with Ryan Gallagher while in the 'I'm A Celeb' jungle.
So all the best to Char's year full of self care, happiness and embracing camel toes. That's really what life is all about.
Main Image Credit: Instagram @charlottegshore
8 Times The 'Geordie Shore' Lasses Were Makeup-Free & Flawless...