Teen Mom's Chelsea Houska Reveals The Sex Of Her Fourth Little One In Cute Family Photo
It's a...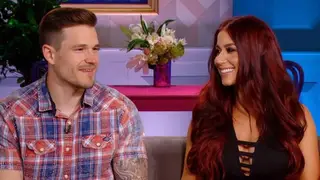 "Baby.......GIRL!!!!!!" Chelsea captioned the snapshot above of the clan reacting to pink confetti, courtesy of some gender reveal confetti cannons.
The new bundle of joy – who joins older sibs Aubree, Watson and Layne – will arrive in "early 2021," and Chelsea gushed "everything's been going very smooth, and baby is doing good." The sweet pregnancy announcement came via a list of every family member's name written in their soon-to-be home – and it included "baby" with a little accompanying heart.
MTV will have Baby DeBoer updates, as well as coverage around the brand-new season of Teen Mom 2 premiering in September (supersized sneak peek below).
This article was written by Jordana Ossad, and originally appeared on MTV.com.
Main Image Credit: Teen Mom 2, MTV
Then And Now! The Teen Mom: Original Girls Through The Years...