All The Winners Of The MTV Video Vanguard Award
The MTV Video Vanguard Award is one of the highest honours that can be bestowed on an artist. Here's who's won the Video Vanguard award since its inception in 1984.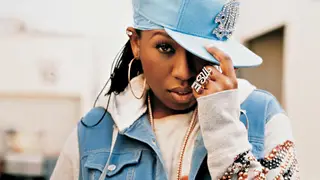 Who's won the Video Vanguard award since its inception in 1984? We've tracked every artist/group who has taken home MTV's highest honour. 
The MTV Video Vanguard Award is one of the highest honours that can be bestowed on an artist. The award is officially given in recognition of an artists' overall achievements in music and film, but is sometimes handed out as a lifetime achievement award. Whichever way you slice it, the MTV Video Vanguard Award is huge, and because of its prestige, debates surrounding who has won the Video Vanguard Award and who should've won instead can rage years after the fact.
But that's show business folks. There can only be one (a year, but also sometimes two). Anyway, without further ado, here's all the previous winners of the MTV Video Vanguard Award.
1984: Richard Lester & The Beatles
At the inaugural MTV Video Music Awards, The Beatles and Richard Lester – who directed "A Hard Day's Night" (1964) and "Help!" (1965) – were honoured for "essentially inventing the music video". Do yourself a favour and watch how awkward Ringo looks in "Help!" – very clear none of them knew how big music videos would be back then.
While The Beatles won a special mention thanks to their years of achievements and basically inventing the music video, it was the one and only David Bowie who took home the first official MTV Video Vanguard Award.
David Byrne picked up an award recognising all his work with New York City band Talking Heads, which was active between 1975 – 1991, and again briefly in 1996 and 2002.
This guy my friends, this guy made history. See, he directed "Video Killed the Radio Star" – the first-ever video played on MTV. And for that, he received a Vanguard. Not a bad day's work (literally, they filmed it in South London in just one day). Oh and the best part, he's one of us! Proper fair dinkum Aussie winning a Vanguard. Lovely stuff. Bloody legend.
Manchester rock duo Godley & Creme received the award for "an outstanding body of work".
In 1986 Madonna became the first woman to win the MTV Video Vanguard Award. She would go on to win Video of the Year for "Ray of Light" two years later.
1986: Zbigniew Rybczyński
Polish director Zbigniew Rybczyński also picked up an award in '86 for "being visionary in the field of music video".
British director Julien Temple took home an award for his impressive repertoire of music video directing working with a number of high profile artists including David Bowie, The Rolling Stones, and the Sex Pistols.
Not only did Genesis frontman Peter Gabriel pick up a Video Vanguard Award, but he also took home the Video Of The Year award in '87 for his hit, "Sledgehammer".
Jackson took home a Video Vanguard Award in 1988, because, well, he's Michael Jackson.
A cigarette smoking Madonna presented the 1989 Video Vanguard Award to George Michael and it was damn iconic. She exuded mid-Madonna cool as she intro'd George Michael to the stage, nonchalantly describing him as "an artist who has made outstanding contributions to the world of music video… like me," she said before taking a sassy drag. "He has an excellent voice, he's a great songwriter, and he makes very classy videos," she said, before taking another drag and adding, "like me." Powerful energy.
Janet Jackson received the 1990 Video Vanguard Award at 24-years-old. She remains the youngest artist to ever win the award. 
1991: Wayne Isham & Bon Jovi
New Jersey legends Bon Jovi took home the 1991 Video Vanguard Award along with director Wayne Isham, who directed several of their videos.
Guns N' Roses won the '92 vanguard for "almost single-handedly [putting] back the passion, and the anger, and the reality into a virtually dormant rock and roll industry."
With such an impressive resume of music videos, Tom Petty was a solid choice for 1994's Video Vanguard.
The Rolling Stones also grabbed the Video Vanguard in 1994 which was given as a lifetime achievement award.
R.E.M won the vanguard in '95, adding to their MTV success after winning the 1991 Video of the Year for "Losing My Religion".
Director Mark Romenek won in 1997 due to his impressive CV of music videos, including the Janet and Michael Jackson video, "Scream" which cost US$7 million at the time.
1997 was also the year that saw a hip hop artist win the MTV Video Vanguard Award for the very first time.
The Beastie Boys continued the hip hop run of wins in 1998. The late Adam Yauch, aka MCA, used Beastie Boy's time on stage while accepting the award to make a solid speech condemning the US' involvement in the Middle East, one that could've easily been made today, which is both a testament to MCA, and really fucking depressing.
2000: Red Hot Chili Peppers
Don't think the new millennium's first Video Vanguard couldn't have gone to a better band tbh.
U2 pulled the classy move of inviting the remaining members of the Ramones on stage with them during their acceptance speech to honour the memory of Ramones frontman Joey Ramone, who'd passed a few months previous. "New York City has given us a lot of things, but the best thing it ever gave us was a punk rock group called the Ramones, without whom a lot of people would never have gotten started, certainly us," Bono told the audience.
Duran Duran took home the award in 2003, which was given as a lifetime achievement award.
2006 saw the award return, and was given to Hype Williams for his insane resume of music videos that at the time included Will Smith's "Gettin' Jiggy wit It", TLC's "No Scrubs", and Kanye West's "Gold Digger" – the latter of which was part of a long-time partnership between Hype and Kanye, which has spanned 20 videos. He would later go on to shoot Kim Kardashian for Playboy. Interesting career.
Everyone's favourite communist was the deserving winner of the 2011 Vanguard, which was presented to her by the ever-eccentric Lady Gaga.
Justin had a particularly good night at the 2013 VMA's, taking home both the Vanguard and Video of the Year award for "Mirrors".
Beyoncé was presented the 2014 Vanguard by husband Jay-Z and daughter Blue Ivy. V cute moment for Queen B.
Kanye West was presented with the 2015 Video Vanguard by his bestie, Taylor Swift. He then went on to make an 11-minute speech in which he announced for the first time he was going to run for president in 2020. Simpler times..
Drake simped hard when he presented Rihanna with the 2016 Vanguard award, describing her as someone he's been in love with since he was 22 years old, before leaning in for a kiss that was gently dodged by Rihanna. Sucks for Drake but hey maybe next time don't try and outshine the person you love's moment. Winning a Vanguard is a once-in-a-lifetime event, save the unrequited love speech for another time.
Ellen Degeneres (lol) presented the 2017 Video Vanguard to P!nk, who went on to make a sweet speech about her daughter and loving yourself fully.
2018 saw a Latin artist win the Video Vanguard for the very first time. Don't be fooled though, she's still Jenny from the block.
Main Image Credit: Licensed by Getty
The 2019 VMAs Red Carpet Was Truly Wild...