Charlotte Crosby Opens Up About Her Future Plans With Ryan Gallagher Now She Has Left The 'I'm A Celeb' Jungle
...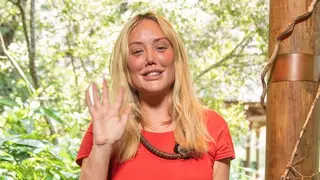 We were hoping she'd go all the way to be crowd Queen of the Jungle, but alas it wasn't meant to be.
Even though she won't be taking the win, we reckon Charlotte Crosby has walked away from 'I'm A Celebrity Get Me Out Of Here' with a prize that's just as good. A blossoming romance with Aussie larakin, Ryan Gallagher.
The cute new ~maybe couple~ only had to spend one night apart after they were evicted from the competition on consecutive nights. The question that's on everyone's lips is: what happens now they're back in the real world?
In an interview with 10 Daily the 29-year-old Geordie gave an update on her plans with the the Married At First Sight star, explaining that she'll be heading back to the UK before returning to Australia for a month.
"I plan on staying for that long," she said, "I'll have a bit of work, and me and Ryan are planning on spending a week together."
Char also went on to say that she's looking forward to doing the things a new couple would get to do if they weren't holed up in a jungle camp for weeks.
"I'd like to spend some time just me and him, maybe go on a few dates, see what it's like without the cameras and then -- obviously -- I do want to meet his parents."
But with all of that in mind she wants to take things slow considering her recent breakup with Josh Ritchie.
"I don't know whether I'm ready to meet the family just yet," she said. "You've got to remember we've only known each other for just under four weeks, I've just come out of a really serious relationship."
So we're just going to be over here continuing to manifest Charlotte moving to Australia.
Main Image Credit: Network 10
PICS: Get To Know The Cast Of 'Married At First Sight' Before The Premiere...