'Geordie Shore' Royalty Marnie Simpson Announces Engagement To Casey Johnson
Why aye: Geordie OG Marnie Simpson is engaged.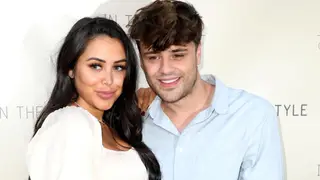 Why aye: Geordie OG Marnie Simpson is engaged. Her longtime boyfriend, Casey Johnson, popped the question while on a date night over the weekend.
"And just like that I'm now a fiancé and I'm marrying the man of my dreams, how did I get so lucky," Marnie, 28, wrote alongside a photo of the two with him pointing to her diamond ring.
Casey, 25, shared the same photo, writing under his: "OMG SHE SAID YES!!!".
Earlier in the night, Marnie shared a scene from their date night, which showed an orchard decorated with fairy lights. "Oooh, I feel like I'm in Narnia," the Geordie Shore star said in her Instagram Stories.
Friends, famous mates and Geordie co-stars shared their congrats on the posts. Geordie Shore co-star Charlotte Crosby commented: "Ahhhhhhhhhhhhhhhhhhh" within minutes of the post going up, while Abbie Holborn wrote, "Congratulations to you both."
The couple has been dating since June 2017 after meeting on reality show Single AF. Nearly two years later, in April 2019, they announced they were having a baby together. Rox was born in October 2019.
Marnie told the Mirror UK way back when that something "just happened" between them when they started filming together. Casey explained he knew he was keen on Marnie when the two took a flight to Mexico together. "We were sat on the plane for like 13 hours and we didn't watch one movie, we just talked," he said.
"We didn't know each other and it was just so good getting to know each other," Marnie recalled. "What did they expect to happen when they put us together on that long flight? I was obviously going to fall in love with him, look at him."
Main Image Credit: Instagram
Marnie Simpson's Geordie Shore Style Evolution...