Geordie Shore's Charlotte Crosby Has Officially Hooked Up With Ryan Gallagher In The 'I'm A Celeb' Jungle
...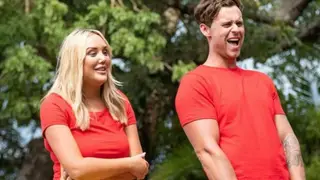 WE HAVE A KISS, EVERYONE! WE OFFICIALLY HAVE A KISS IN THE JUNGLE!
After what seemed liked weeks of lead up, the flirtation between Charlotte Crosby and Ryan Gallagher on 'I'm A Celebrity Get Me Out Of Here' has finally resulted in what we all knew was coming.
In last nights episode the pair shared a sweet moment when they canoodled by the wash basin before both confessing they wanted to kiss each other.
"I told you about the surprise. I was going to give you a kiss!" she said, while Ryan admitted, "I was going to kiss you by the basin!"
It didn't take long for that to turn into real pashing when Ryan dropped by Charlotte's bunk for some cute little kissies.
Later on Char got into his bunk for some spooning.
Can you feel the love tonight? They certainly can.
We are very into this blossoming couple and we hope they can keep it together long enough to take this relationship outside the jungle.
Main Image Credit: Network 10
The Most Fkd Tattoos To Come Out Of Just Tattoo Of Us Season 2...