Key's Solo Comeback "Bad Love" Is A Retro-Inspired Space Opera
The multi-talented K-pop star says his new mini-album shows who he really is as an artist.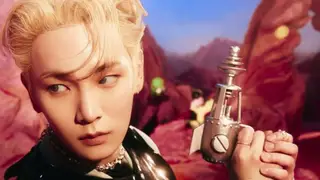 Key from K-pop group SHINee has made his long-awaited solo comeback with his new-mini album Bad Love. It's his first solo release since 2019's I Wanna Be, which itself was a repackaged version of 2018's FACE.
The album release was preceded by the single "Hate That…", the third track on the EP, which is a collaboration with Girls' Generation's Taeyeon that came out at the end of August. The music video for the song, which is about a bitter break-up, features Key in scenes in a spaceship before he hurtles back to Earth, while Taeyeon is stuck on a rock surrounded by water, alone. The visuals not only highlight a sense of isolation and loneliness, but also gave a big hint at what was to come on the album.
The space concept is continued throughout the album itself, as well as the music video for "Bad Love", a new single which dropped at the same time as the album. "Bad Love" is about a toxic relationship with another person, and the music video sees Key performing in various scenarios including in front of a space-inspired backdrop. At one point he also appears in a spaceship.
Key was inspired by old-school sci-fi movies for the concept. "That's just me. I made that whole concept," Key told NME. "I still miss that generation, when I got new figures from Star Wars and Star Trek…I wanted to recreate those elements that I kind of reminisce about."
The visuals bring out the retro sounds and '80s-style synths that permeate the album. Including "Hate That.." and "Bad Love", the EP has six songs in total. "Yellow Tape" uses the metaphor of crime scene tape to explore a troubled relationship, while "Helium" is about an addictive kind of attraction. 
The final two songs on the album, "Saturday Night" and "Eighteen (End of My World)" are both songs Key wrote the lyrics for himself, although he said "Saturday Night", about a pandemic-era break-up, is fiction. "Eighteen (End of My World)", meanwhile, is a heartfelt ode to his younger self.
"When I debuted, I was 18, so I just wanted to cheer up 18-year-old Key," the singer, who is now 30, told Clash. "At the end of the song, [the lyrics] turn to 'I would love to watch the end of my world with you. It's like, if the end really comes, I can just watch [it]. That's not a sad thing for me. I'll be there with you, so you don't need to be scared for whatever is at the end of this tunnel. It's about living in the moment. 18 is 18, and 30 is 30. I don't make specific plans, it's more about following my heart."
"Bad Love", then, is Key following his heart right to the core of who he is as an artist, as he revealed to NME: "I finally became 'me'. I have a chance to show the audience that this is me. The album is the album-version of Key."
Written by Jenna Guillaume, an entertainment journalist and author of YA rom-coms What I Like About Me and You Were Made For Me. Follow her at @jennaguillaume.
More good stuff: