All The Controversies Jeffree Star Conveniently Forgot To Address In His Latest Apology Video
A complete guide to J*'s apology.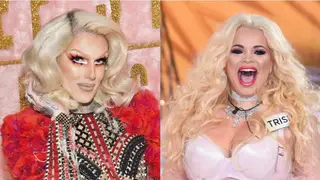 After weeks of uncharacteristic silence as all hell broke loose in the beauty YouTuber world, Jeffree Star finally spoke out over the weekend... but he kinda didn't say anything? The controversial YouTuber released a 10-minute apology video titled "Doing What's Right".
In it, the make-up mogul addressed James Charles, Shane Dawson and Tati Westbrook, and inserted himself into the Black Lives Matter movement by bringing up the deaths of Breonna Taylor, Elijah McClain and Black trans women. You can read more about what else the clip entailed here.
But while Jeffree did vaguely address a few recent controversies, there was tons of stuff he conveniently left out. Below, we break down every salient point and controversy Jeffree failed to mention in his much-awaited apology video. Settle in.
Tati's claims of gaslighting and manipulation
Jeffree skirted around it, but failed to address the Tati situation directly. Tati claims in her "Breaking My Silence" video that Jeffree and Shane had "used, coerced, and manipulated" her into making her "Bye Sister" clip targeting James Charles. You can read about Tati's allegations here.
Tati's "Bye Sister" clip had called out James for making advances towards straight men (Jeffree labelled him a "predator" at the time, and called him a "danger to society") and for being a "bad role model", resulting in James losing millions of YouTube subscribers and pushing him to contemplate suicide.
While Jeffree did apologise to James in his new video, calling the events that unfolded after the clip went up "disgusting" and "awful", he didn't say whether or not he had in fact played a part in the video's making – or if Shane had been either.
YouTuber's claim he lied about a warehouse robbery
In late June, reports swirled that Jeffree may have lied about his warehouse robbery to get publicity.
YouTuber D'Angelo Wallace called out the fact that Jeffree's story sounded eerily similar to that of another make-up warehouse robbery. He also brought up the fact there are reportedly no police statements about the alleged incident, even though Jeffree had claimed he was working with police. You can read about that here.
Jeffree has yet to comment on this.
Jeffree's past controversial comments – and Shane's
In his video, Jeffree called fellow beauty YouTuber Shane Dawson "genuine, amazing, and selfless", made vague statements about past behaviour being the 'old' Jeffree and Shane; and added that Shane was "one of the most kind people I have ever met in my entire life."
"That is my best friend, and I was truly shocked that people thought I was going to distance myself from him or that my silence was anything but support," he said. "I know the amazing person that he is today and you don't abandon your friends."
What Jeffree didn't address, however, were the controversies surrounding Shane and himself. Recent resurfaced videos show Shane sexualising a then-11-year-old Willow Smith, portraying blackface and using racial slurs. Jeffree has also made racist statements in the past and been accused of using anti-Semitic and xenophobic slurs. His former close friendship with an alleged abuser, Dahvie Vanity, has also been a point of contention for fans. 
His former friendship with Dahvie Vanity
Which brings us to our next point: Jeffree's connection to Dahvie. In 2019, HuffPost reported that the MySpace musician had been accused of sexual assault by more than 21 women, many of who said they were minors at the time. Fans reportedly dug up tweets from 2010 in which Jeffree writes that he was an eye-witness to these crimes.
Jeffree later went on to publicly declare his support for Dahvie (more on that here), but has since backtracked on that too. In an interview with To Catch A Predator's Chris Hansen back in April of this year, Jeffree said he was not friends with Dahvie and he had never actually witnessed any crimes committed by him, though he did call behaviour by Dahvie "offensive". "Oh absolutely, the things that I've seen were very offensive," Star says. "And looking back, it was the way he was such a master manipulator at making things seem not as crazy as they were. I've witnessed him be very inappropriate with people underage. Have I witnessed an actual crime? No."
This is obviously very different from Jeffree's previous comments around the situation (saying that he did witness crimes, etc.); and fans were hoping he'd clear some of those discrepancies up in this video, but no dice.
Fellow YouTuber, Trisha Paytas' claims that J* body-shamed her
YouTuber Trisha Paytas went on a Valentine's day trip with J* back in February and things seemed to go well! Later on, though, Trisha had a different story to tell, alleging Jeffree body-shamed her and spoke shit about her behind her back. "This has nothing to do with my friendship with Jeffree Star," she said in a video released in defense of Shane Dawson called "Tati dumb as hell". In the clip, Trisha defends Dawson, but doesn't have anything nice to say about Jeffree. "If anything, that Vegas trip [with Jeffree Star], I came home in tears. I was crying. I was upset. Those DMs were real to that guy, it was not a good trip, and he just confirmed what I felt on that trip. It was not good. So I'm not defending Jeffree because I don't know Jeffree like I know Shane." 
It's all rather complicated and there's a great summary on the full events that went down around that Vegas trip here; but regardless it doesn't look good for Jeffree. Of course, Jeffree swerved addressing Trisha Paytas's claims; and we doubt he'll bring it up again.
Jeffree's split with Morphe
And finally, Jeffree has yet to comment on make-up brand Morphe announcing in mid-July it was "ceasing all commercial activity related to Jeffree Star and affiliated products". Though his company did issue a statement at the time, saying it was "shocked and extremely saddened by the decision", Jeffree himself has yet to comment on the split. You can read more about that here. 
Jackie Aina's open letter
We've been waiting on Jeffree Star to comment on this for a while, but unfortunately Jackie Aina's open letter to Jeffree Star, in which she outlines the many ways his behaviour has been racist, remains unaddressed.  
So many things left unsaid...
Catch the apology clip in full here:
Main Image Credit: YouTube
8 Extremely Dramatic YouTube Feuds We Can't Stop Thinking About...