Spencer Pratt, Everyone
Our interview with the original villain of reality TV was about as chaotic as you'd expect.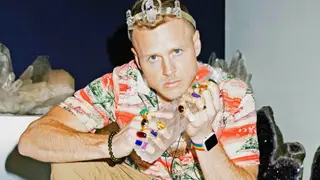 I don't think I'm being dramatic in declaring that meeting Spencer Pratt was a life-changing experience. Such is the power of going head-to-head with the OG villain of reality TV and perhaps one of the most mystifying humans to ever grace the small screen. I have spent many an afternoon contemplating this man. His inner psyche. His motivations. His one-liners ("You're making yourself cry, thinking about what you did"). So, with the second season of The Hills: New Beginnings airing on MTV this week, it was time to put some of these vital questions to bed.
Here's my interview with the one and only: Spencer Pratt, everyone.
On being a reality star
Spencer: On sets, when I was a kid … I was like, "This is cool." You get to play make-believe as a job and be a millionaire. I wanted to be in film or TV, making content, not being on camera. I actually never had that ambition, as crazy as that sounds.
But I definitely wanted to be in Hollywood and be rich and famous for being like a Spielberg or somebody. Not like, a hated reality television star.
On Kristin Cavallari's return
Kristin introduced Heidi and I, so I love Kristin for eternity. It was such a blessing [her coming back onto the show]. And to me, she just brings the energy I love from reality TV: she's so authentic and she doesn't put on an act. And I felt like the chemistry between her and Brody was super interesting and entertaining.
If she lived in LA and not Nashville, I think a lot of things could've happened. I think they almost happened too…
On being the 'villain' in the OG Hills
That was frustrating, being so hated in the media. At first it was like, 'Ha ha, funny'. And then I was like, 'Wait, people aren't in on this shtick?' I'm like a Simon Cowell. I'm trying to make a show and this is what they're telling me [to do].
I wish I could have been on a show that showed more of who I was. I wish I had social media where I could go on IG Live during an episode and [explain certain things]. You could still maybe not like me, which I'm totally fine with, but at least for real reasons. 
On his enduring crystal obsession
I got really into crystals because when Heidi had surgery … It was like she got hit by a train, the most pain, it was so horrific. And I was freaking out. The painkillers weren't working. I was already into crystals, but I was like, 'Is there a crystal for pain?' And I was researching, I found this one called sugilite ... She held that crystal all night, woke up.
It's like, "Oh my God, I didn't have pain." Then I went full Harry Potter, Lord of the Rings [with it]. So I had to dial it back because you can't live in a functioning society at that level, I learned. People think you're very strange. And I was already pretty weird.
On what will go down this season of 'The Hills: New Beginnings'
We'll see if [the cameras] capture what I see of this cast. We filmed for a year. Usually it takes three months. But because of the pandemic and lockdowns and shutdowns, we kept on stopping and going.
This season, Brody really shocked me [because of] how much of his emotional mental drama he discusses and what he's been going through all these years. Which made me feel better because we haven't been friends for 15 years and hearing how many problems he really has been battling. I was like, 'OK, it's not personal.' I was like, 'Whoa, this guy's putting all this on TV? Dang, good for you.'
According to the cast, what I keep hearing them saying is everyone was the most vulnerable [this season]. I look forward to seeing that. My interactions with a lot of the cast was ... I felt like we were being attacked for no reason. I feel like people were trying to put Speidi back in the 2009 frequency. So, I'm not going to say I dislike everybody, but you know, pretty much.
On the Justin Bobby-Audrina-Brody-Kaitlynn love square:
The strangest thing happened. I'm sorry you didn't get to see this. The other day, we did a Zoom press tour and Audrina and Justin were in it [too]. I don't think Justin knew that Audrina and Brody are talking about their kissing [on the new season]. And he saw it for the first time in the trailer and he was acting so strange and giving off jealous energy, but then complimenting Audrina. It was as weird as it gets. I feel like he did not like that it's not Audrina-Justin in the trailer. I think on this season he thought it was [all about them], so I think he's like, 'Oh wait, she was also having the same kind of conversations with Brody'.
I don't know if they'll use the footage, but Justin was also kind of seeing Kaitlynn for a minute: Brody's Kaitlynn. It was so strange. I wish I actually could narrate some of these scenes. So people like, 'Hello everyone, reminder: Brody and Caitlin were just together for six years. And now Audrina's talking about how her and Brody have always had a flirty chemistry relationship.'
It's a strange crew, let me just tell you that. I don't think they could do a season three. That's how weird everything went this season.
The above conversation took place as part of a roundtable interview with MTV Australia editor Alice Griffin. It has been condensed and edited for length and clarity.
The season premiere of The Hills: New Beginnings premieres on Thursday, May 13th at 8:30pm on MTV Australia (channel 122 On Foxtel and 104 on Fetch). Don't have Foxtel or Fetch? No sweat, you can download a season 2 pass for access to every new episode as it drops on Google Play and Apple TV.
Catch up on past episodes of 'The Hills' for free on our website and browse Spencer's online crystal store here.