Just Jack Antonoff's 10 Greatest Songs
We're paying our respects to the one-man hit machine that is Jack Antonoff with a look back at his best tracks – so far.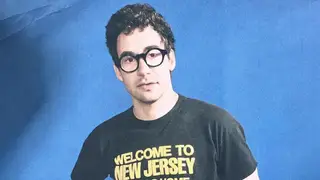 If you've got an eye for the charts, you'll have noticed Jack Antonoff's name popping up more frequently than most over the course of the last decade.
After breaking big into the music industry with arena pop revivalists, fun., Antonoff subsequently asserted his new profession as a one-man hit machine. He'd go on to become the key ingredient to some of the most defining songs of the decade, with his fingerprints all over iconic songs from Taylor Swift, Lorde, Lana Del Rey and beyond.
A wildly inventive producer and intricate songwriter, Antonoff's pedigree as an instrumentalist and collaborator has made him this generation's go-to pop sideman. His ascension to that status is full of interesting sonic detours and standout moments.
From twangy country ballads and power-pop anthems through to electro-clash romps and ten minute psychedelic escapades, we're journeying through Jack Antonoff's back catalogue to trace his influence as one of the most preeminent producers of the modern era.
fun. - "We Are Young" (2012)
Although his early output with Steel Train was undeniably formative to his instrumental prowess, Antonoff didn't really showcase his true potential as a pop maestro until the release of fun.'s 2012 sophomore record, Some Nights.
Led by the globe-conquering, Janelle Monáe-assisted single "We Are Young" (you know the one), Some Nights showcased everything that Antonoff was capable of. Anthemic hooks and stadium-ready beats on cuts like "Carry On" and "Some Nights" collided in spectacular fashion to demonstrate his genre-bending approach to production.
These pop credentials were cemented when fun. took home 'Best New Artist' and 'Song Of The Year' at the 2012 Grammys. From then onwards, Jack hasn't looked back.
Sara Bareilles - "Brave" (2013)
When Bareilles penned "Brave" about a woman who was struggling to come out as gay to her friends, Antonoff quickly lent his songwriting smarts to the track. This was around the same time he was working on "We Are Young", which accounts for the songs sharing a similarly triumphant tone and major key feel.
While its popularity might've been eclipsed by Katy Perry's "Roar" (some even accused Perry of plagiarising from Bareilles due to the semblance in tempo, instrumentation and feel) "Brave" still went three times platinum in the US and twice platinum in Australia. The track set a heady precedent: Antonoff's name would be affixed to similar catchy hooks for years to come.
Bleachers - "I Wanna Get Better" (2014)
Spawned as a side project in 2014, Bleachers functions as Antonoff's primary outlet for his own solo productions, which lean heavily into synth-pop aesthetics and – you guessed it – enormous choruses.
One of his biggest Bleachers songs to date, "I Wanna Get Better" proved to be a huge milestone for Antonoff as a producer in particular. This video breaking down the song's production process highlighted the sheer level of detail intertwined throughout the beat.
It's a meticulous alchemy of found sounds, boom-bap drums and searing guitars and also sees Antonoff at his lyrical best, making sense of the traumas of his adolescence to churn out one big cathartic burst of euphoric power pop.
Taylor Swift - "Out Of The Woods" (2014)
After writing the retro-inspired "Sweeter Than Fiction" together in 2013, Antonoff reconnected with Taylor Swift to work on her pop opus 1989, with his most prominent contribution being the writing and production of "Out Of The Woods".
Built atop of a Bleachers-esque blend of thunderous drums and darting electronic arpeggios, "Out Of The Woods" sees Swift eulogise her relationship with Harry Styles in fantastic fashion, eschewing her identity as a country darling to easily meld with Antonoff's synth-pop aesthetics.
The collision of Swift and Antonoff's two vastly different songwriting styles on "Out Of The Woods" is considered by many to be one of 1989's boldest moments, with both parties being recognised for their work when the record snagged the coveted 'Album of the Year' gong at the 2015 Grammy Awards.
Lorde - "Green Light" (2017)
Lorde made it clear from the get-go that Melodrama was to be no sophomore slump when lead single "Green Light" landed in March of 2017. A breathtaking piece of pop songwriting and production alike, the track marked a drastic departure from the brooding sound of her Pure Heroine era, with Antonoff, Joel Little and Frank Dukes instead opting for up-tempo percussion and a dance-inflected piano groove to help usher in an exciting new era for Lorde.
Theoretically, "Green Light" might be one of the most profound lead singles released in years: there's no drums till the first chorus, the use of the mixolydian mode to underscore the song's catharsis is exemplary, and the depth of Lorde's vocal range in the pre-chorus is nearly unheard of in such a big pop song.
Such complexity rarely resonates on the pop charts, but then again, it's Lorde and Jack Antonoff – what else would you expect?
St. Vincent - "New York" (2017)
Brooding piano ballads are somewhat of a specialty for Jack Antonoff – think Lorde's "Liability", Lana's "Norman fucking Rockwell" – but few are as potent as St. Vincent's "New York".
Here, Antonoff lends his co-writing and production chops to Annie Clarke's sparse, sweet ode to the city that never sleeps, with the song's soaring strings and understated synthesisers all being hallmarks of Antonoff's production style.
There's considerable speculation among listeners as to exactly who Clark wrote "New York" for – some connect it to her then-partner Cara Delevigne, while others point to David Bowie as being the chorus's titular hero. Regardless, it's a total masterpiece, and surely ranks as one of the most underrated moments in the Antonoff canon.
Taylor Swift - "Look What You Made Me Do' (2017)
Following up 1989 was always going to be difficult, but nobody expected Taylor Swift to return as hard as this. Released in the wake of her winning a symbolic sexual assault trial against radio DJ David Mueller (not to mention public spats with Kanye and Kim), "Look What You Made Me Do" was a bombastic comeback anthem that saw Taylor adopt a new, edgier identity. She dominated the Billboard charts as a result, and so much of its energy comes courtesy of Antonoff's sleek electro-pop production on the track.
Taking cues from German club music and high energy electro-clash, Antonoff weaves "Look What You Made Me Do" together with a bank of modular synths, blistering programmed drums and spine-tingling strings, all of which build to an epic climax with that infamous "because she's dead!" line. It's incredibly indulgent, stupidly addictive and has proved to be wildly polarising; really everything a good comeback ought to be.
Lana Del Rey - "Venice Bitch" (2018)
Released almost a full year before Norman Fucking Rockwell!, "Venice Bitch" marked the arrival of Lana Del Rey as a true songwriting maverick. A sprawling ballad that spans nearly ten minutes, it's both commanding and atmospheric, with Lana delivering an all-time best vocal and lyrical performance and Jack Antonoff recording a wildly psychedelic instrumental that might be his finest ever.
Revolving around a muted guitar motif, Antonoff loops a bed of intricately plucked guitars and gushing jets of distortion, with squiggly synths and blasts of cymbals crashing through to make for one of his most progressive productions yet. It's the perfect match for Lana's own adventurous vocal embellishments across the track. "Venice Bitch" set high expectations for Norman Fucking Rockwell! – but boy, did she deliver.
Dixie Chicks - "Gaslighter" (2020)
For their first record in 14 years, Dixie Chicks (now The Chicks) enlisted the services of Jack Antonoff to help refine its triumphant title track "Gaslighter", applying his pop smarts to the band's twangy country sound to make for one of their strongest singles yet.
This one's quite fascinating to analyse from a production perspective: the exuberant vocal harmonies and dynamic song structure is almost reminiscent of Antonoff's work with fun., with soaring choruses and stomping backbeat giving the track a classic power-pop vibe. Pair that with The Chicks' bluegrass instrumentation and giddy vocal arrangements, and you've entered country country heaven – yeehaw.
Lorde - "Solar Power" (2021)
The past 18 months have been incredibly prosperous for Jack Antonoff. Since the onset of the pandemic, he's worked on no less than three albums with Taylor Swift (and earned another Grammy for 'Album of the Year' for folklore), as well as lending a hand to new releases from Lana Del Ray, St. Vincent, Sia and even snagging a feature from Bruce Springsteen on recent Bleachers single "Chinatown".
If there's any single takeaway you should gain from reading this, though, it's that Jack Antonoff is at his absolute best when working on a comeback single. And this year, there's been no greater comeback moment than Lorde's "Solar Power".
A sun-kissed jam that serves as a slight betrayal of her Southern Hemisphere roots, "Solar Power" sees Lorde partner with Antonoff to provide a palate of acoustic guitars and low-key synths to the track, with subtle psychedelic flourishes peppered throughout the track to aid in its gleaming, carefree feel.
Truthfully, we're only really scratching the surface of Jack Antonoff's pop credentials here, and by the looks of his schedule, it's likely we'll have even more material to analyse soon, with his name being affixed to forthcoming projects from Lorde, Lana, Clairo, a Taylor's Version of Red and more. One thing's for certain: there's no stopping Antonoff. In fact, there's every chance we're yet to even see him reach his peak.
Written by Will Brewster, a Melbourne-based writer and producer. Follow him on Twitter @_willbrewster.
More good stuff: