Every Lorde Song, Ranked
David Bowie called her "the future of music", but first let's turn to the past. We rank every single Lorde song to celebrate the release of her third album, 'Solar Power'.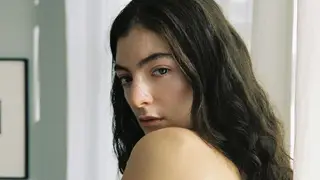 When Lorde – aka Ella Yelich-O'Connor – erupted on to the scene in 2013, she nor the rest of the world knew just how much we needed her. We needed an underdog (in this case, a teenager from Auckland, New Zealand) to skulk into the pop scene, tossing her hair and rolling her eyes, and completely subvert it, changing its course forever.
Eight years and two albums later, Lorde fans have waited ever so patiently for her next release after almost four years of silence. And, now the wait is over: the superstar songwriter has finally returned with her third album, Solar Power. In celebration, we thought now would be as good a time as ever to reconsider Lorde as an artist and examine her body of work. Without further ado, here's every Lorde song, ranked.
45. "White Teeth Teens"
If this track was left off Pure Heroine, I wouldn't miss it.
44. "Meltdown" (with Stromae, Pusha T, Q-Tip and HAIM)
The absolute smorgasbord of superstar collaborators should've set "Meltdown" up as an instant classic and, while catchy, the studio production overwhelms all of the artists' voices to the point where you strain to hear what they're saying. The overall message is lost.
43. "Biting Down"
Even with some of Lorde's deepest vocals over a haunting, rolling synth, "Biting Down" remains one of the least memorable notches in her discography.
42. "Leader of the New Regime"
There's an irony in this interlude in which, if the world did become unlivable and humanity did have to relocate, it would be people with Lorde's net worth and above that would be able to flee the burnt-out capitalist dystopia. Her fans? Maybe not.
41. "Million Dollar Bills"
For what it's worth, "Million Dollar Bills" has the rolling percussion fans loved about Lorde's early work. But the Grimes-like ethereal flute backing, fused with the Sleigh Bells-like chanting verses, isn't exactly her best work.
40. "Easy" (Switch Screens) [with Son Lux]
A reworked version of Son Lux's original track that essentially just has Lorde singing over it. Not bad, nothing special.
39. "No Better"
Perhaps the closest we'll ever get to Lorde rapping on an officially-released track, and perhaps the closest she should ever get to doing it again.
38. "Ladder Song"
While sonically weaker than most of her other works, "Ladder Song" gives an important insight into Lorde's ability to change her voice from what we hear on her biggest hits into something more fragile and vulnerable.
37. "Swingin' Party"
While The Replacements' original performance of "Swingin' Party" is a summery haze, Lorde's version of the tune is sparse, moonlit and sombre. Changing the feel of the original completely, this marks one of the artist's better covers.
36. "Stoned At The Nail Salon"
Like Solar Power's titular lead single, "Stoned At The Nail Salon" features the ever-so-pretty backing vocals of Phoebe Bridgers and Clairo, making for a real holy trinity of millennial sad-grrrl-core. It's Lorde having an existential crisis while treating herself (relatable!) but never really goes beyond just sounding like a Phoebe Bridgers or a Clairo song.
35. "The Love Club"
Lorde's voice always felt more suited to darker and brooding melodies, so the whimsy and light-hearted nature of "The Love Club" feels a touch off. As always, though, the beauty is in the story the artist tells. She sings of losing a thrill that you get as a teenager when you hang around with new friends, in lieu of leaving old ones behind. You feel excited and accepted as you climb a social ladder, but in reality, when you look up, no one is there to take your hand once you reach the top. Importantly, old friends will hang around at the bottom to catch you as you fall.
34. "Liability" (Reprise)
While it doesn't have the overwhelming emotion of the original, 'Liability (Reprise)' is a touchstone of Lorde the musician, and her demonstration of growth across an album. The original is a devastating outpour of self-deprecation and hatred, and the reprise is an understated realisation of all that being nonsense. She's not what she thought she was, now she's ready to embrace who she's really been along.
33. "Everybody Wants To Rule The World"
A completely transformative cover of Tears For Fears' funky original, Lorde makes the tune one of warning and terror.
32. "California"
Part of the mixed reception around Solar Power is largely due to how singular it is to Lorde's experience. Everyone can relate to the teen angst she sang about in Pure Heroine, and most people can relate to the heartbreak to euphoria pipeline of Melodrama, but Carole King presenting you with a Grammy award? A uniquely Lorde experience.
That being said, "California" is a low-key, dreamy, summery track about, well, dreaming of a low-key summer. Nail, meet head.
31. "Bravado"
A recurring theme throughout Lorde's discography is finding hope and a sense of self amid trauma and doubt. In the public's view at least, the first instance of this in song came in 2013's "Bravado", the opening track to The Love Club EP. It's a slow build into an intense percussive climax, as Lorde vows to break through her introversion and conquer the world. She's nothing if not prophetic.
30. "Dominoes"
29. "Still Sane"
Lorde wrote this to describe her experiences grappling with her "newfound fame". The barely-there and bass-ridden melody only makes her seem more serious. "I'm little but I'm coming for the crown" doesn't sound as wishful as it looks on paper: it sounds like a promise.
28. "The Path"
Lorde told Apple Music that "The Path" was the first song she wrote for Solar Power, and that she always knew it would open the album. From the opening notes, it feels obvious why it would open the record – it's whimsical and ethereal, like a mess of vines unfurling to reveal a hidden oasis that Lorde forged for herself after skyrocketing to superstardom, inviting us to be a part of it. The song, at once peaceful and haunting, is also a really frank dismantling of the narrow-mindedness of stan culture: "If you're looking for a saviour, that's not me".
27. "Homemade Dynamite"
With an outstretched hand and a twinkle in her eye, Lorde sees you from across the dance floor and invites you into the melodrama. While the studio production leaves a little to be desired, Lorde stands ready to face the chaos of the party, with all the vodka-laced kisses and spoilt breakdowns that are to come.
26. "Mood Ring"
The Natasha Bedingfield jumped out, slapped me across the face and then tried to get me to join a pyramid scheme selling non-toxic household cleaners.
25. "Magnets" (with Disclosure)
Lorde featuring on someone else's song is incredibly rare. But, the meeting of her and band Disclosure culminated in a dance-floor banger that the world desperately treasures. Her singer contralto bounces along Disclosure's laser-like production effortlessly, as she invites her love to jump directly into the unknown.
24. "A World Alone"
Guitar strums signal the end of her album Pure Heroine and the end of the night. "A World Alone" perfectly captures the album's M.O.: thriving with one another amongst the bullshit around us.
23. "Glory & Gore"
"Pop rebel" is a label bestowed on New Zealander Lorde often, but it's most fitting in the sparks of revolution that burn throughout the dark and brooding "Glory and Gore". Standing on the frontline with an army of teens behind her – all of which have been looked down upon by society's menacing adults – it's not a matter of if her and her comrades will conquer the world, but when.
22. "Oceanic Feeling"
Solar Power closer "Oceanic Feeling" sprawls across natural landscapes and trains of thoughts. It's almost like a stream of consciousness with Lorde pondering on everything she has just sung about, and where she'll go next. The song is more transportative than any that came before it, drenching you in New Zealand sunbeams that feel familiar even if you've never felt them yourself. The cicadas buzzing in the background feels a little on the nose, but the song's undeniable beauty leaves you feeling reset and refreshed.
21. "Buzzcut Season"
While large parts of Lorde's first album, Pure Heroine, centre around the experience and celebration of adolescence in suburbia, "Buzzcut Season" places it under a different light – how living in your own world can blind you to tragedies happening elsewhere. Plucked synths and some of Lorde's most delicate vocals to date don't try and shame anyone for their ignorance, instead documenting how she and her friends insist on focusing on what's right in front of them because it's easier – no matter how detrimental that is.
20. "Secrets From A Girl (Who's Seen It All)"
"Secrets From A Girl" is overflowing with potential. Tapping into that early '00s poptimism once again, Lorde writes her past self a comfort letter. In the past decade, Lorde has lived one hell of a life but she had to battle the regular trials of adolescence with the unimaginable mindfuck of fame. "Secrets From A Girl" is a heartwarming, but grounded, reminder that things might hurt but you'll probably be OK.
However, it fumbles that potential with the tacky and insincere spoken-word outro by Robyn that lazily portrays an emotional journey by using airport metaphors. It's songwriting that feels beneath every artist involved, and while it's sonically soothing, adds nothing to what would otherwise be a great song. If anything, it makes it so much worse. "Welcome to sadness" indeed.
19. "Hard Feelings/Loveless"
The one-two punch of this split single perfectly, and intentionally, shows off Lorde's duality as a singer. Where she woefully mourns her lost love on the "Hard Feelings" section, she wryly plays as heartless and fleeting on "Loveless". "Hard Feelings" is dreamy and swooning, while "Loveless" is mischievous and grimacing. It's a track that juxtaposes her pain post break-up with the archaic idea that millennials lost the penchant for what is truly romantic. Using her own experience, she forces her seniors to recognise that love in the 21st century has a different hue, while proving that her feelings have existed since the beginning of time.
18. "Supercut"
There is euphoria pouring out of "Supercut" that Lorde hadn't captured before. It's one of those songs that was likely as fun for her to write as it is for us to experience, and a favourite for many on her Melodrama album. This is her version of a festival anthem – booming, soaring and cathartic. 
17. "Solar Power"
Lorde's four-year break from releasing new music after Melodrama meant the hype around her eventual return was always going to outshine the return itself. But instead of matching the hype with an explosive song like many artists – including her – have before, she took an entirely different approach on the June 11 release of "Solar Power".
Stripped back and lyrically relaxed, "Solar Power" showed a different side of Ella Yelich O'Connor. She's done with the cynicism of adolescence and the emotional rollercoaster of a break-up. Here, she's literally just happy to be alive and basking in the sun's glow. Jack Antonoff (again) met her where she needed him, providing slick yet subtle production that was really just meant to amplify her newfound radiance. She celebrates a nature-drenched and technology-devoid freedom which, at the tail end of a global pandemic, you can hardly blame her for.
16. "The Man With The Axe"
After an album that was all about the post-breakup whirlwind, "The Man With The Axe" is a welcome reprieve – Lorde has found love again, and she's showing it with some of her most impactful lyricism to date. "You felled me clean as a pine/The man with the axe and the look in his eyes", she sings in the final chorus, over a song that floats over spacious guitars and intimate scratches.
15. "Sober II (Melodrama)"
Lorde's confrontation of her own bullshit, and what her relationship with her lover is really like comes to the spotlight on "Sober II (Melodrama)" as the craziness of the party in "Sober" dims into distant memory. Like some sort of beautiful disaster, Lorde sings of a love that's fizzling out over grand strings and a thunderstorm of percussion, as she ponders on what exactly could be going wrong.
She told you she'd be giving melodrama, and that's the fantasy – however tragic – you're going to get, so why are things going so awry? She cleans up the glasses she dropped just to hear them break in "Glory and Gore", and what's left is her and lover, alone on the dancefloor, with nothing to distract them from their problems anymore.
14. "Yellow Flicker Beat"
Curating the soundtrack to an instalment of one of the biggest film franchises just a year after your debut album is no easy feat, but Lorde managed it with ease. "Yellow Flicker Beat" saw Lorde embrace a more mature sound than the wide-eyes of Pure Heroine, and was laced in ferocity and verve. While the lyrics were meant to describe The Hunger Games heroine Katniss Everdeen, they grew to become synonymous with Lorde herself; refusing to bow to industry pressure with an ignited ambition to achieve her goals.
13. "Team"
Lorde can churn out an anthem for millennials like no other artist can, but none of them sound as spirited, as wholesome and as anthemic as "Team".
12. "Big Star"
A song about Lorde's deceased dog, Pearl? Written before he passed? About how much she loves him? With lyrics like "Every perfect summer's gotta take its flight"? Lorde realising the tragedy and beauty in mortality? BRB panic buying Kleenex for my tears.
11. "Sober"
No honeymoon lasts forever, and much as Lorde wills it to on "Sober", she knows the rush will fizzle out and she doesn't know what'll come next. The thought of the future continues to creep in and out of her mind as she kisses her new love among the strobes and liquor, but she doesn't let this ruin her momnt.
That internal push and pull is explosive, and is reflected by the earth-shattering drums and piercing brass that zoom around the song. Never before has Lorde sounded this maximalist, and it's something she might do well to explore further.
10. "Perfect Places"
Lorde knows how to close an album. After the mental battering of Melodrama and euphoric realisation, Lorde also learns that, sometimes, she just doesn't want to be alone with her thoughts. Sometimes, she just wants to party. She wants the beat, the drink, the hook-ups to give her that brief sanctuary from her own mind. She knows it's temporary, and she knows it might be unhealthy, but she knows it'll help for right now. There's a gritty realism entrenched in the song's optimism that sets Lorde's songwriting apart from her pop contemporaries – there's no single great fix for her life's melodrama. She'll keep working on herself and her relationships, she wrote, but for now, she just wants to dance. 
9. "Liability"
A piano-ballad for the ages, Lorde has never sounded more melancholy and more heartbroken than on "Liability". Those faint guitar scratches as Lorde completely tears herself apart makes for a real gut-wrenching listen.
8. "Tennis Court"
Don't you think that it's boring how people talk? That's the question Lorde poses in the first lyric of the opening track to her debut album, Pure Heroine. And, after all the synths, percussion, fame, GRAMMYs and world tours that followed, it's strange yet humbling just how that loaded question still surmises Lorde better than anything she has penned before or since.
Lorde's writing is inherently fantastical. Everything is coated in fabled metaphor, making her life and her feelings appear as magical and as otherworldly as they appear to Lorde herself. She's nonplussed with the luxe she was about to be thrust into, and just wants to make her own adventures in her own world. While the world around her has changed drastically, she's still determined to make those adventures. "Tennis Court" is an invitation to join her, with pulsating distortion and the now-infamous "yeah" that beats through the chorus.
7. "Writer In The Dark"
"I'll love you 'til my breathing stops, I'll love you 'til you call the cops on me" is sung with such manic sadness and aching melancholy that it freezes you. You feel Lorde's undeniable heartbreak in your cheeks, weighing on you as she laments on lost love. But the best part of "Writer In The Dark" is Lorde's understanding that she'll be ok, even when she appears completely distraught.
"I'll find a way to be without you, babe"
6. "400 Lux"
"400 Lux" is Lorde's unabashed love letter to normalcy. It is her looking around at her completely predictable surroundings, and still managing to find those unpredictable fleeting moments of wonder in between the homes that "don't change."
Opening with slow burning synths that boom in one ear before rotating to the other, Lorde is conquering boredom and doing so with flair. You'll be hard pressed to find a lyric about love and friendship that is as simple as it is gorgeous than "We're never done with killing time/Can I kill it with you?"
It's a song that feels archival, given Lorde's current life is anything but normal, but it's a sobering reminder to find beauty in life's most prosaic moments. Even if you think you can't find it, "400 Lux" lets you know that it exists around every corner.
5. "Fallen Fruit"
Pop stars taking on climate change through music isn't exactly as simple of a task as one might seem. It's either so vague that the message is lost, or so direct that it feels more like an ad campaign than a song – regardless of political beliefs, no-one wants to feel like songs from their favourite artists are just covert propaganda. But "Fallen Fruit", the standout on Solar Power, wades peacefully in the middle, lingering in twinkles of fading sunlight. It melts the haunting higher register Lorde sings throughout most of the album with the dulcet tones we've come to know her for, as she laments the loss of nature she's learned to love.
"How can I love what I know I am gonna lose?" she sings over sombre guitar, a rare moment of reality in an album built around fantasy. Solar Power isn't a universally relatable record, but the way Lorde laces "Fallen Fruit" with uncomfortable feelings of doom and climate anxiety, it's a sullen reminder that she's still one of us and that we're in this together – win or lose.
4. "Royals"
The irony that a track about the disconnect Lorde feels with pop culture would in turn end up changing pop culture forever is, we're sure, far from lost on the artist. Lorde was ready to subvert expectations and tropes from the very beginning.
In the golden age of music content, few artists' debuts have had the impact "Royals" did when it dropped.
#1 all across the world. Two GRAMMY awards. David Bowie called Lorde "the future of music" and Dave Grohl called her "revolutionary". Fancy a 16-year-old from the city of Auckland, New Zealand penning the most influential pop song of the decade!?
Following its release, we saw the birth of artists like Banks, Halsey, Mallrat and, perhaps most notably, Billie Eilish. Not only did these artists flourish, they dominated. The alt-pop sound no longer has the rebellious feel of Lorde's; it has instead become much beloved by fans everywhere.
She sings about the mundanity of teenage life at home in the suburbs, how she clings to it and how she resists the excess and grandiose lifestyles that pop culture instructs teenagers to aspire to. The track was written and released before influencer culture really took off, but the song takes on new meaning as our feeds and timelines curate a utopian idea of other people's lives. Lorde, who was famously off social media for years until very recently, refuses to buy into it. She was happy with the train rides, the cheap grog, the stupid jokes. 
Changing pop music forever? That's just a bonus.
3. "The Louvre"
Broadcast the boom boom boom boom and make 'em all dance to it. The repetition of those four lines over little more sparse percussion form the entire chorus of "The Louvre". Despite the all-star team that created this track – Lorde, Jack Antonoff, Flume and Malay Ho – this is an incredibly muted hook, even by Lorde's standards. It's the emotion that Lorde pours out of every breath that makes it the best love song the artist has ever written.
"The Louvre" is a euphoric and escapist celebration of love, inclusive of all its downfalls and tragedies. Lorde is so madly in love that her heartbeats can be heard by her fans, and now they serve as the backing to the song's chorus. The love she feels, warts and all, is the only thing that matters to her in this very moment. 
The timelessness of the song's namesake museum can be tainted by the thousands of people that are crammed in there at any one time. The heat, the congestion, the incessant iPhones. But, underneath all the mess, the art is still art. Lorde's love, to her, is the exact same.
She knows her relationship isn't the sort of world-renowned and world-adored type of art that is Mona Lisa or Venus De Milo. She knows people are going to walk past her and her lover and offer them no more than a slight glance. But Lorde plays on anyway.
2. "Ribs"
Opening with a long stretch of moonlit synths and staccato choral vocalisations, "Ribs" pulsates from start to finish as Lorde revels in her youth and her freedom while simultaneously running for her future as a superstar and, more terrifyingly, an adult.
She sings of wandering avenues illuminated by the golden tinge of street lights – it's freeing but it's unnerving. Lorde sings of a beloved and kindred friendship, with a child-like wish to just be in this moment and play together forever. She wants to run away from her future and engulf herself in her present, but tomorrow is coming either way.
Lorde's fear of growing up is a common theme throughout album Pure Heroine, partly because she thinks she's fine as she is and partly because she's terrified of the unknown. It's never more perfectly surmised than on "Ribs". Lorde just wants to "laugh until our ribs get sore", but she knows no amount of laughter can hold off anxiety over her future forever.
At this point, the artist isn't exactly ready to face her future, and that's what makes "Ribs" – despite its heartbeat and shimmering synths – one of the most devastatingly sad songs Lorde has ever released.
1. "Green Light"
If the lead single to Lorde's first album would redefine what greater society thought teens would want in their music, the lead single to Lorde's second album would redefine exactly what our idea of a break-up song is. "Green Light" is Lorde at her undeniable, indisputable, unshakable best.
She's scorned, she's hurt, she wants answers. She's ready for closure and she's ready to leave her ex-lover in her tracks. The anger she sings with is palpable - "she thinks you love the beach, you're such a damn liar" – and it is only overshadowed by her hunger to close this chapter of her life. She wants it all done and over with, though we'd find she would fall back into what went wrong throughout the course of the Melodrama album.
She begs for answers – "Did it frighten you/How we kissed when we danced on the light up floor?" – over an infectious, house-inspired piano melody, before screaming for the green light to enter her future over a zooming, soaring climax. The ending is strong and it's triumphant, and leaves you absolutely breathless.
"Green Light" marked a natural progression from the muted and unjaded nature of Lorde's beginnings, but no one could have expected that she'd crash back into the scene this explosively. She commands your attention from start to finish, following her on those chaotic moments after a break-up. Through all the vengeance and vulnerability, Lorde captures everything about a relationship's end and lets it fly beautifully and magically across the dancefloor. "Royals" gave us a pop apprentice to keep our eye on, but "Green Light" saw Lorde become, by all interpretations, a master.
More Lorde stuff: