Lorde Has Risen, And She's Touring
Lorde's third album 'Solar Power' is dropping on August 20, with a tour through Australia and NZ following soon after. (Holy shit.)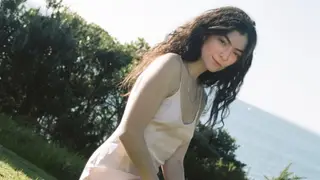 It's been a little over a week since Lorde brought the warm summer heat back to our lives with her new single, "Solar Power", and now she's serving us even more with a string of 2022 tour dates to get us through the winter cold.
The superstar will be playing shows in her home country of New Zealand throughout February and early March, taking on stops in Christchurch, Upper Moutere, Lower Hutt, Havelock, New Plymouth and Auckland.
Then, she'll make use of that sweet, sweet trans-Tasman bubble, playing Australian shows in Sydney, Melbourne and Brisbane before wrapping it up in Perth. We are very much here for this.
This will be the first tour of Lorde's since she played shows in support of her 2017 album Melodrama, which means fans will no doubt be hankering to hear all the hits live once again. Naturally, you'll have to think quickly if you want to snap up tickets. There'll be a Spark and Telstra Plus pre-sale opening on Monday, June 28. An artist and a Frontier Touring pre-sale will open at 12 noon local time on Wednesday, June 30. The following week, general tickets will go on sale at 12 noon local time on Monday, July 5.
And even better news, Lorde's third album, which will once again feature production from Jack Antonoff, is out very incredibly soon. The musician announced the news that the disc-less album would drop on August 20! Considering she's been teasing it from as early as last year, the hype is well and truly real and you'll have time to memorise every little lyrical masterpiece Lorde delivers before you see her live.
Lorde's 2022 New Zealand and Australian tour dates:
Check the full list of dates and locations for Lorde's 2022 tour below:
Saturday, February 26: Electric Avenue, Hadley Park, Christchurch
Sunday, February 27: Neudorf Vineyards, Upper Moutere

Tuesday, March 1: Days Bay, Lower Hutt
Wednesday, March 2: Black Barn Vineyards, Havelock
Friday, March 4: TSB Bowl of Brooklands, New Plymouth
Saturday, March 5: Outer Fields at Western Springs, Auckland
Thursday, March 10: Riverstage, Brisbane
Saturday, March 12: Sidney Myer Music Bowl, Melbourne
Tuesday, March 15: Aware Super Theatre, Sydney
Saturday, March 18: Belvoir Amphitheatre, Perth
Written by Jackson Langford, music contributor at MTV Australia. Hot takes at @jacksonlangford and hotter pics at @jacksonlangford. This article was updated to reflect the album release news.
More on Lorde: