TXT On Their New Album, Their Creative Process And The Things Worth Fighting For
Tomorrow X Together talked to MTV Australia about 'The Chaos Chapter: FIGHT OR ESCAPE' and what's happening in their lives as they reach greater and greater heights.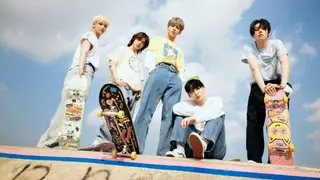 Korean quintet Tomorrow X Together (TXT) released their second studio album, The Chaos Chapter: FREEZE back in May, which saw them hit number one on iTunes in 45 countries and number five on the Billboard 200. Now, TXT are back with a repackaged album, The Chaos Chapter: FIGHT OR ESCAPE, which contains all songs from FREEZE as well as three new tracks, including title song "LO$ER=LO♡ER", an emo-pop punk dream that is the perfect follow up to FREEZE's title track "0x1=Lovesong", as well as the band's first fan song "MOA Diary (Dubaddu Wari Wari)" and an emocore remix of "0x1=Lovesong".
To celebrate the release of the next page in The Chaos Chapter, MTV Australia spoke to TXT members Soobin, Yeonjun, Beomgyu, Taehyun, and Hueningkai about their music, their fans, and what is helping them fight or escape right now...
MTV AUSTRALIA: The Chaos Chapter: FREEZE hit no 5 on the Billboard 200 – congratulations! How did it feel to reach such a milestone?

SOOBIN: The Chaos Chapter: FREEZE was a meaningful and enjoyable experience for all five of us, as it must be for our fans as well. We were obviously very pleased with the music and performances, but also with the concept and overall message of the album because it really is a continuation of our story in this world, and therefore speaks to the Gen Z experience today.

BEOMGYU: We're very happy it reached so many people and were very proud of the album's achievement. It's no doubt thanks to the love and support from all our MOA worldwide. We're very thankful they are with us and hope our newest album and our future releases will continue to resonate with them.

How do the three new tracks on The Chaos Chapter: FIGHT OR ESCAPE expand the narrative you established in FREEZE?

HUENINGKAI: The Chaos Chapter: FREEZE told the story of a boy who froze up in the world, feeling small and insignificant. The Chaos Chapter: FIGHT OR ESCAPE continues that story. Because he met 'you,' the boy decides he won't stay frozen any longer. For 'you', he now wants to either FIGHT against the world or escape reality with you.

What did you enjoy the most about preparing for this comeback? What was the most challenging aspect?

YEONJUN: The absolute best part has to be that we were able to return to our MOA so quickly. We couldn't wait to share more new music with them. The most difficult part was probably that we had less time to prepare for the album release, so we had to focus and work hard in order to manage a quality we could be satisfied with. I think it turned out great.

TAEHYUN: I'm very happy that we were able to share our first fan dedicated song: "MOA Diary (Dubaddu Wari Wari)." Writing the lyrics for this song was such a pleasant and enjoyable experience. I hope our MOA love the song as much as we do.
The Chaos Chapter overall seems to draw on iconic teen pop culture like The End Of The F***ing World – what inspires you about such stories, and what value do they add to your work? What else has inspired you lately?

YEONJUN: Pop culture pieces do come in useful because the flow of emotion depicted in these works definitely leave an impression in our minds. As you mentioned, TEOTFW did help me to build the overall lyrical framework of my rap lines. The key theme is that "together, we can overcome anything." Others inspiring me these days are stories we hear from our friends and fans (whom we also consider our friends) because they're experiences and emotions that real people feel. They widen the experiences I have within my own life.            
 Do you ever read fan theories about your songs and music videos? For instance, with "0x1=Lovesong", there's a popular theory that Yeonjun is actually alone and imagining the other four guys in the music video. What do you think of such theories?

TAEHYUN: Rather than provide a straight answer, I want to encourage people to continue to guess and theorise. I think that a big part of the enjoyment comes from interpreting our works and turning them into stories of your own.  
With The Chaos Chapter, you're all participating in creating your music more than ever. What is the creative process like for each of you? Do you need certain conditions to get in the right headspace?

SOOBIN: I prefer to work late at night – often past midnight after I'm done with everything for the day. These late hours are when I'm most at ease emotionally, and my thoughts are free to wander.

YEONJUN: I'm constantly working with my ideas. If I have a creative thought whenever or wherever I am, I note it down, whether it be my phone or computer. I try hard to truly understand each song and I think I'm quite meticulous when it comes to songwriting.

BEOMGYU: I like to work in the dark with all lights off. I note down each thought as it comes and develop the idea almost immediately.

TAEHYUN: I simply take a seat in my studio whenever I have time and the ideas come.

HUENINGKAI: I usually start working on the piano in a quiet place. I hum the melody and play accompanying chords on the piano. Then, I continue to build it.

What do you like most about new title track "LO$ER=LO♡ER"?

YEONJUN: The sound of course, as well as the story and message of the song together with various performance aspects. I think "LO$ER=LO♡ER" is a song that truly enables us to show our unique colour as a group. Also, the song will continue to be especially memorable for me because it's the first title track I was able to work on.

HUENINGKAI: Some great songwriters and producers helped create this track. It's an honour for us and we really do love this song. I think it's wonderful.
What was it like preparing for the performance of "LO$ER=LO♡ER", especially using elements like stand mics and unit choreography?

TAEHYUN: We were all extremely excited to show our MOA new and unique performances. Working with different styles and sounds has definitely been a big opportunity of growth for us as artists. Rehearsing the choreography for "LO$ER=LO♡ER" was very fun. Our MOA love it and that makes us very happy.

"MOA Diary (Dubaddu Wari Wari)" is your first fan song – why was this the right time, and the right song, for such a significant release?

SOOBIN: August is MOA's birthday, and we just couldn't wait to see our MOA and share new music with them once again. All five of us had so much we wanted to say to our fans and this seemed the right way to do it. We're so thankful for their presence and all the love they give us. We're excited to share many more great moments with them in the years to come. Thank you, and we love you MOA!
Are there any behind the scenes moments from writing "MOA Diary" you can share?

BEOMGYU: The five of us individually worked on the lyrics for this song and put together the best pieces to finalise. One thought we all had in common was that we simply had too much we wanted to say to our MOA, and it was difficult trying to deliver all these thoughts and feelings in a few precise words. I hope our MOA can feel our love and gratitude through this song. 
When you think of your fans, what is the very first thing that pops into your mind?

HUENINGKAI: Our friends. TOMORROW, together with our MOA.
You frequently connect with your fans online, especially over apps like Weverse. Fans obviously enjoy it a lot – but what does interacting in this way mean to you?

YEONJUN: I can speak for our entire team when I say that our interaction with our fans is a very big source of strength for us. Being able to share our stories and emotions is obviously great, but a lot of the magic comes from listening to the stories that our MOA tell us about their daily lives. These are stories from all over the world and we do learn and experience so vicariously through them. 
As The Chaos Chapter explores, the world is very chaotic right now – what are the things you're personally sure of, that give you peace or something to fight for, when things feel out of control?

TXT: Our fans, MOA, of course! And that we have each other – the five of us walking together for a better tomorrow.
When it comes to scary situations, are you team freeze, fight, or escape?

SOOBIN: I'll choose to FIGHT. I'd rather lose than not do anything. I think it's always better to take action, even if the action is small. What matters is that I'm doing something for myself.

YEONJUN: I'm team FIGHT. Maybe I watched too many films, but I'd like to fight my way through. I'd like to make my way through, even if each step is a slow one.

BEOMGYU: It really depends on the situation. But if I'm to FIGHT, my way would be to think things through in a positive manner and to continue on my way.

TAEHYUN: Team ESCAPE. If it's a situation I can't change, I'll adapt.

HUENINGKAI: ESCAPE! I think it's important to first get out of that situation, then think calmly about my next steps.

You're always extending yourselves creatively – what's a concept or genre you haven't tried yet that you'd really like to?

TXT: We're eager to learn and try everything. We want to continue to expand our scope as musicians and to become more versatile artists. It's also incredibly exciting to be able to continue our story in many different sounds and forms.
What is your absolute favourite part of your job? What's something about your work that might surprise people?

BEOMGYU: My favourite part is probably that I get to perform and share music with so many people all over the world. A surprising part might be that there are so many people working behind the scenes, including our producers and songwriters but also all our staff members. We're very thankful for their support and glad we can all work together.
What is the last thing that made you laugh out loud?
SOOBIN: My lovely pet hedgehog Odi! He welcomes me into the room by shoving his butt at me and it's really cute.
YEONJUN: When I order something and it arrives.
BEOMGYU: The TOMORROW X TOGETHER members!
TAEHYUN: Rehearsing for various TOMORROW X TOGETHER content as a team.
HUENINGKAI: The members are hilarious. Their jokes get me every time.
Finally, what has been the highlight of 2021 for you so far?
SOOBIN: I think it has to be that we were able to return to our fans with The Chaos Chapter. It was a new chapter for all of us. We were able to work with more rock band-type sounds. We released our first English song "Magic" as well as our first fan dedicated song "MOA Diary (Dubaddu Wari Wari)."
I think The Chaos Chapter series was one that truly allowed us to evolve and showcase something new, yet simultaneously enabled us to deliver our most genuine and unique colour as TOMORROW X TOGETHER. I'm very proud of all our members and am extremely pleased that our fans love our music so much. We can't wait to continue our story with more music.
Words and interview by Jenna Guillaume, an entertainment journalist and author of YA rom-coms What I Like About Me and You Were Made For Me. Follow her at @jennaguillaume.
More good stuff: